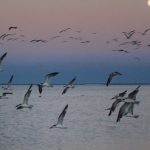 We woke up early today. Mickey has a men's breakfast meeting in a nearby town, then church, and finally he will be speaking at an area Thanksgiving service. Whew! Busy day.
As I brewed my cup of coffee, I glanced out of the kitchen window, and was awed by what I saw. It was the same view I had admired often, but this time it was different. This time it seemed to speak to me.
I love sunrises – even more than sunsets. It's, of course, the beauty of the swath of color, but it's more than that. It's announcing something – a new day. A new chance. A new breath. New. New. New. I love the message.
Maybe it's because I never live up to my own expectations, but I've always loved new beginnings. Yesterday is gone, and you get to get up and go again. You don't know exactly what the day will bring, the people you may meet, the opportunities and challenges you will face, but you are ready to "do it again."
It's as if God planned our lives in segments – segments we could handle. He wants us to value each segment and live it wisely. That's all we get, really. One day at a time. Whether we are doing big things or little, we do them one day at a time. When we master that concept, we master many others.
Today is important. Today is someone's birthday and another's funeral. Today people will come to know Jesus. Today people will get engaged or married. Today new babies will come into the earth.
Today is also the day we need to diet, if we are going to. Or exercise, if we are going to. Or read the Bible and pray, if we are going to. Or forgive that person, if we are going to. Or stop drinking, if we are going to. Today is important.
When we "get this" concept, our lives change. It's so easy to think that tomorrow we will accomplish what we dream about, but today doesn't matter. But it does. That's all we have – one day at a time.
As I look at the beauty of the dawn, something else comes to mind. Lamentations says that God's love is "new every morning." God's faithfulness to us is symbolized in the fact that He never misses giving us a new day – not until the time we go to our next life. One more chance – and I'm going to take it.
Oops, I'd better get going. I need to face the day.
Psalm 90:12  So teach us to number our days, that we may apply our hearts unto wisdom.